Give Yourself Moments Of Peace With An Enhanced Bathroom
Proudly serving the Pennsylvania counties of Montgomery, Chester, Delaware, and Berks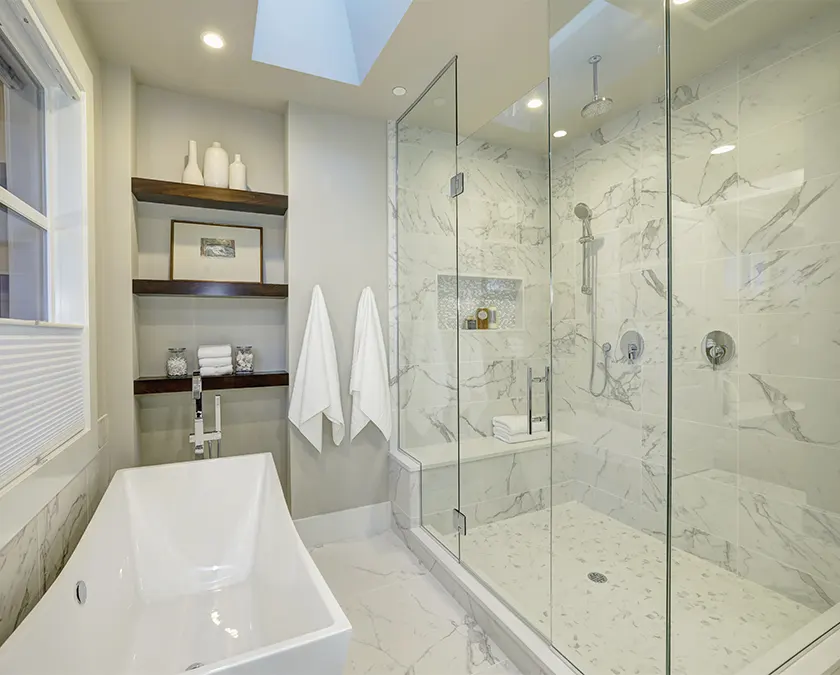 Step Into A Bathroom That Invites You To Relax
Your bathroom should be a serene, functional environment for your entire family. If your current bathroom doesn't foster relaxation and a sense of refreshment, perhaps it's time for a change.
You don't have to go to a spa to feel renewed—you can have the same experience in the comfort of your home with the right amenities. Streamline your space and beautify your bathroom with custom vanities that fit your style. Whether you want to remodel your bathroom or give it a fresh look completely, we're here to help.
Give yourself and your loved ones the chance to relax in a beautiful and inviting space.
Some of the most popular bathroom upgrades include:
Make Your Bathroom More Efficient With Smart Features
Another great reason to remodel your bathroom is for added efficiency and practicality. A more functional bathroom will make your personal time more enjoyable while also reducing water usage and costs.
Bring technology at your fingertips with automated ambient controls and built-in Bluetooth speakers. While you're soaking in your freestanding tub or taking a quick shower, your favorite music is playing in the background. Add to that some relaxing scents and the right ambient light, and you're bound to never leave your bathroom!
Turn your bathroom into a place that's both efficient and inspiring. Let us bring your dream bathroom to life.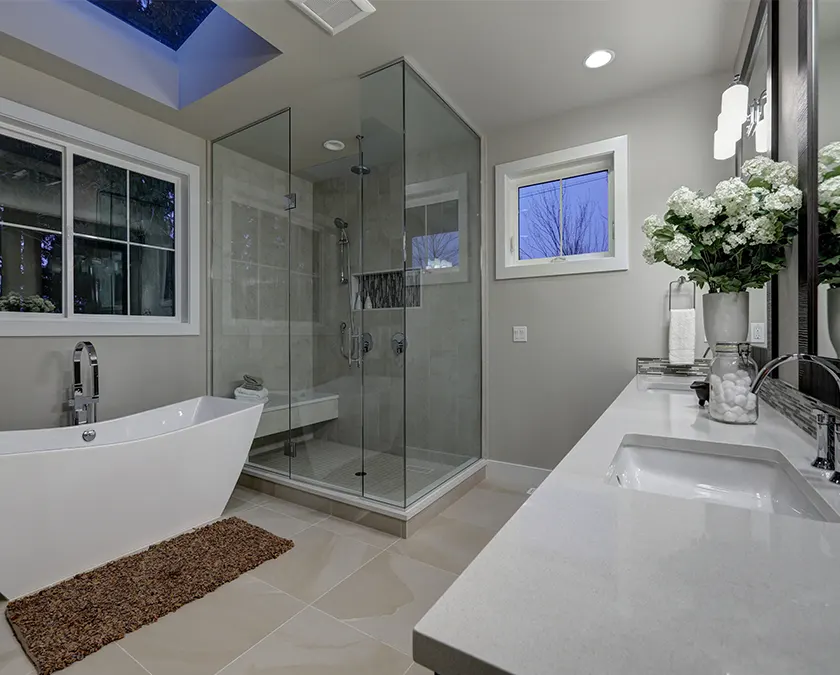 If you've been thinking about upgrading your bathroom, our process will offer you a stress-free experience. Let's transform your current bathroom into a personal oasis.

After we listen to your needs and understand your vision, we'll start working on your project. You and your family will be able to enjoy a new bathroom in no time.

Enjoy Your Upgraded Bathroom
Nothing compares to relaxing in a bathroom that feels airy and inviting. Your entire family can now enjoy the benefits of an enhanced bathroom.
Bathroom Remodeling Pricing
We utilize our knowledge and experience to give you the bathroom that you deserve. Our goal is to exceed your expectations and add more value to your time spent at home.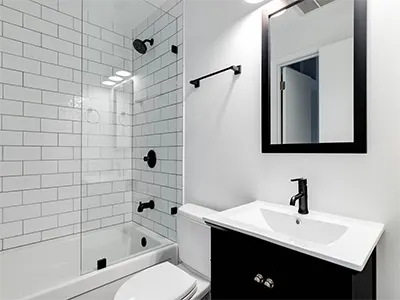 Includes a fresh paint job, new stock vanities, installing a new shower, wall tile, upgraded flooring, and new lighting fixtures.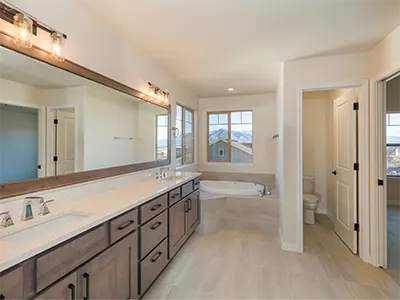 Average Bathroom Remodel*
Includes installing a new double-sink vanity with premium hardware, retiling your shower, and giving it a semi-frameless glass enclosure. Also includes installing new flooring, a fresh paint job, upgraded lighting, and new plumbing fixtures. Can include removing popcorn ceiling if applicable.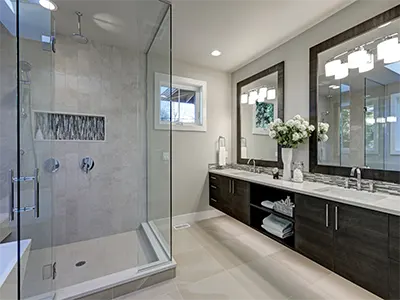 High-End Bathroom Remodel*
Includes installing a custom tile shower or a custom steam/body spray shower with a heavy, frameless glass enclosure, reconfiguring the lighting scheme with smart controls, and a premium vanity and tile selection.
*Prices are averages and may change depending on the size of your bathroom and your choice of materials, fixtures, and upgrades. You'll receive an exact quote for your unique bathroom remodel after the in-home consultation.
Here's What Our Customers Say…
Our goal is to make sure our customers are happy with our work. Please take a look at what other satisfied families have to say about our company and services.​
We moved to the area a year and a half ago and because of the situation, we created a master bedroom in our downstairs area but there was a BIG problem! We didn't have a bedroom door.
I got sick of having no privacy so I found this company and met Kenny who installed a door for us!!
The job was done quickly and for a reasonable cost and the door looks like it was always there. I can't say enough good things about this company!!
8:28 just did some work in my bathroom. The quality of his work is top tier. He did some drywall work next to some other work that was not done by a professional and you can see a noticeable difference!
I gave him the money for the job before it was even complete, which says a lot for his integrity. Even after running into some barriers with getting a light fixture to fit, and already being paid, he continued to come back and try other lights until the job was complete.
There was communication throughout the entire process, I knew when he was coming and going, and what he was working on at the time. I can't recommend 828 Construction Group enough. I look forward to doing business with them in the near future.
Kenny and his team were incredible. My husband and I woke up to inches of water in our home and it needed a ton of work. One call to Kenny and he and his team took care of everything from top to bottom.
New flooring, drywall, paint, electrical and more. Everything was done perfectly even when presented with an extremely tight timeline.
I'd recommend Kenny and his team to anyone as he and his work will not let you down!
Make Your Bathroom Your At-Home Oasis