Update Your Kitchen And Transform It Into A Place For Creating Memories
Proudly serving the Pennsylvania counties of Montgomery, Chester, Delaware, and Berks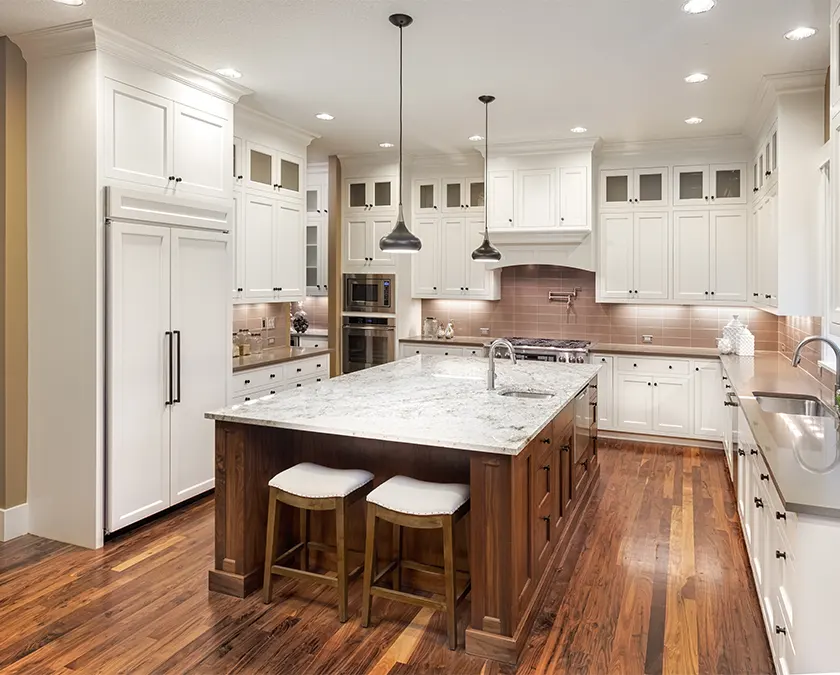 Eliminate Inconvenience With A Functional Kitchen
Above everything else, your kitchen should be a comfortable space where you and your family can gather – it's the place where some of your most precious moments happen!
From your morning breakfast to the delicious dinner you're preparing together, your kitchen should make every task easy and enjoyable. A crowded kitchen with limited space can be frustrating for everyone.
When your kitchen is efficiently organized, you have more space to move around freely. Instead of eating in front of the TV, your family members can sit around your new kitchen island and share a meal while chatting about their day. It doesn't take more than a welcoming kitchen for your loved ones to get together.
Some of the most popular kitchen upgrades include:
Enjoy An Upgraded Kitchen That Exudes Class
You should have a kitchen that is as functional as it is elegant. High-end appliances and finishes will add a touch of luxury and make your kitchen unique, while a well-thought design will invite relaxation. You can leave your old kitchen behind and show it more love with an upgrade that the whole family can enjoy.
Bright kitchen cabinets and custom lighting can visually expand your kitchen. By choosing a premium tile backsplash and high-grade countertops, your kitchen will be transformed into an elegant space.
It's time to give your kitchen an inspiring and elegant look. Get ready to invite your friends and family over for memorable times spent together.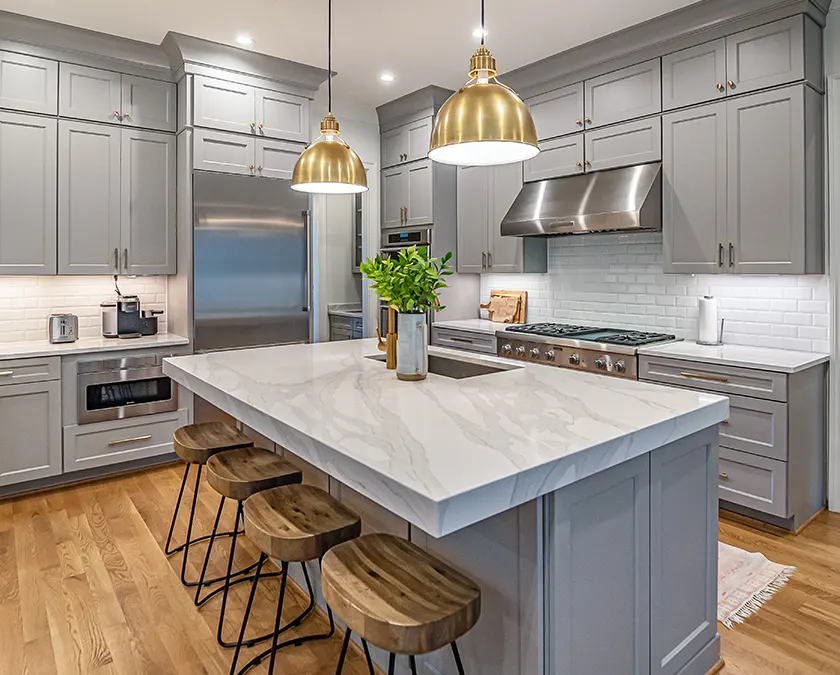 If you've been thinking about upgrading your kitchen, our process will offer you a stress-free experience. Let's transform your current kitchen into one that your family and friends will love.

After we listen to your needs and understand your vision, we'll start working on your project. You and your family will be able to enjoy a new kitchen in no time.

Enjoy Your Upgraded kitchen
Nothing compares to having the kitchen you've always wanted. Now it's time to bring your family and friends together to celebrate your new space.
Kitchen Remodeling Pricing
We utilize our knowledge and experience to give you the kitchen that you deserve. Our goal is to exceed your expectations and add more value to your time spent at home.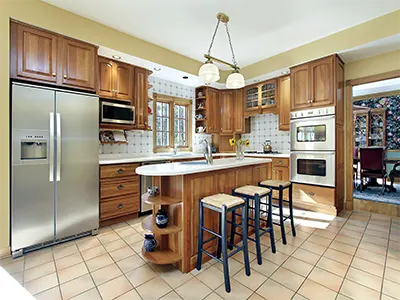 Includes new stock cabinets or refacing existing ones, new countertops, updated lighting, plumbing fixtures, and a new tile backsplash.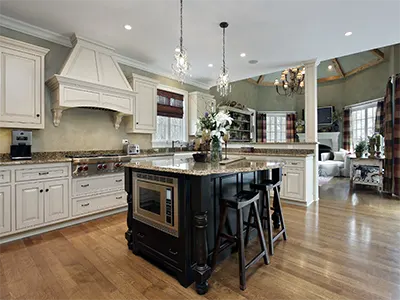 Includes semi-custom cabinets, an updated lighting configuration, installation of new appliances, upgraded countertops, and a new tile backsplash.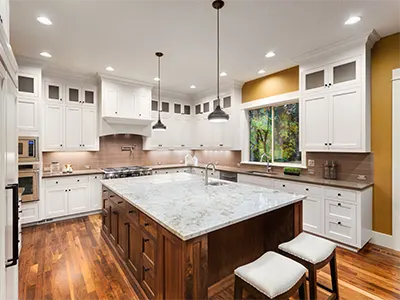 High-End Kitchen Remodel*
Includes a complete reconfiguration of the kitchen layout, new custom cabinets, high-grade quartz countertops, premium tile backsplash, and custom lighting configurations.
*Prices are averages and may change depending on the size of your kitchen and your choice of materials, finishes, and upgrades. You'll receive an exact quote for your unique kitchen remodel after the in-home consultation.
Here's What Our Customers Say…
Our goal is to make sure our customers are happy with our work. Please take a look at what other satisfied families have to say about our company and services.​
Kenny and the 8:28 group were amazing. Everything that we discussed was done with great quality and professionalism. They were punctual and were very responsive if anything changed.
I was so pleased with their grading, concrete construction, and bricking work that I immediately recommended them to multiple friends and family.
We had our entire down stairs flooring redone and also new trim, door frames and a kitchen backsplash! The quality and work is absolutely beautiful!
His main priority was getting the work done in a timely manner and quick turn around! We couldn't be happier and will be using him again for future renovations!
After months of trying to get a contractor, I stumbled upon Ken. Ken came to the rescue and fast! He built a retaining wall, put down a cement slab, cut through our 8" cement basement wall, and installed a door.
The work completed looks amazing! He even cleaned up the mess (knowing he'd be back the next day making the same mess). I will be calling Ken in the spring for more work. I highly recommend Ken!
Let us Give You A Kitchen Your Entire Family Will Love